How to attract and convert your website visitors using lead magnets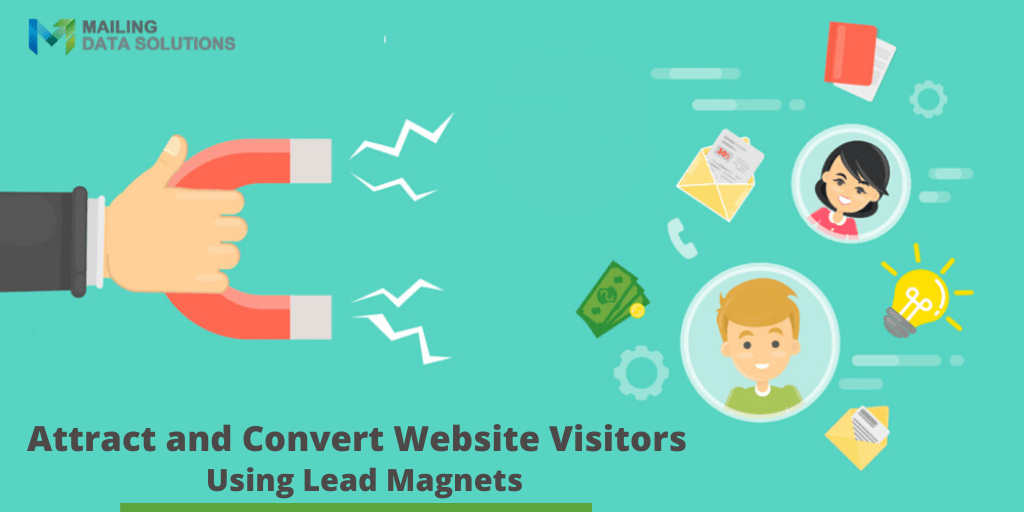 Lead magnets work as a strategic marketing tool that generates leads by offering resources primarily content based in exchange for contact information of viewers or readers. They can be in the form of e-generated products like eBooks, templates, whitepaper, checklists, webinar and downloadable assets. Through lead magnets, one can attract the most organic leads into the business. With a goal to generate leads for the business, it is essential to have a proper lead magnet to mesmerize your website visitors and convert them to lead magnets. If you don't have a lead magnet, or if your lead magnet isn't good enough then this is the information that you will need to change your business.
Email Marketing: Email Marketing can lead an example of conversion in the following ways:-
Reciprocate a call to action: With a call-to-action button, readers and viewers can gain access to the resources by clicking on it.
Arrival on the landing page: On the landing page, the lead magnet captures and stores the information given by the visitor. From there, the visitor will have to fill out a form with their name, email address, and other relevant information that has been deemed important.
Gratitude page: The visitor is taken to a page where they are able to download the resource, thereafter adding them to the database on the mailing list of the website with a 'Thank you' message.
Follow up-Email: An automatic kickback email is sent with a follow-up message to the lead, a short time after the exchange takes place. Further, moving forward, the email marketing campaign starts a conversation with the lead to keep them engaged in the business.
Rectify the problems: Every webpage will encounter a problem. It is better to rectify those problems immediately.
Add more resources: Include resources like informative blogs, e-books, designer templates to help subscribers learn more.
Conduct case studies: Provide a case study as to how customers can benefit from their product using user-generated content.
In all honesty, marketers need to develop creative ways to engage their website visitors. Visitors can get immune to pop-ups and close them without a second thought but a marketer needs to go beyond the expectations of a visitor and provide evergreen content to keep them hooked. The more engagement, the better they are likely to become loyal customers in the future.
Developing the right content requires time and impactful strategies which need to be high-value tailored to the needs of the business. If you have difficulty trying to think of innovative lead magnets to place on the business website, try various examples that can be implemented and use them to attract website visitors and grow your email list.
Tips to make your website attractive to visitors that make them click through Lead Magnets
To make any website visually appealing, it is imperative to keep the following tips in mind:
Make the menu/navigation to the site easily accessible and simple to operate.
Have the content clear and distinct from other elements and easy to read.
Ensure that the buttons stand out as that's where the call of the action happens.
Decide on the importance of every element on the page and don't put too much on the same page.
Develop a design content strategy that is consistent with the interest of the visitor.
Test for user experience and improve. Demand for feedback.
Keep the website technology-friendly and accessible.
Use keywords so that they appear on the web-page of Google results.
Remove irrelevant content that disturbs the visitors.
Ensure your digital marketing initiatives can earn visitors.
Incorporate attractive fonts that are easy to read, add high definition media and keep the layout simple.
Be responsive to help.
Avoid sloppy promotions.
Offer bonus features on your website.
Send automated emails like welcome emails, birthday and anniversary emails, abandoned shopping cart emails, review and feedback emails, appointment reminders and more to subscribers so they feel important.
Conclusion:-
Lead magnets are a driving force for websites as they have an effective technique to gain a prospect's contact information. They are time and energy-consuming and also add good value to your website and content. Now as you know what lead magnets are, start implementing them on your website. The type of lead magnet you wish to apply depends on your business. What is your audience expecting? How do they consume content? What is your kind of content is your team capable of producing?
To create a great lead magnet that is functional for your business is not as difficult as it sounds. It's as simple as attracting the right target audience and placing leads for purchasing. Invest the appropriate time and energy required to make sure the right objectives are being achieved. So what's stopping you?
Serving more than 800+ companies in 40+ countries












Ready to get started?
Claim your FREE All Access Pass to check the Quality of the Data Before you Purchase.